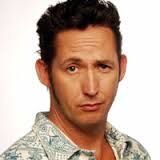 Harland Williams (born November 14, 1962) is a Canadian actor, comedian, author, artist, musician and radio personality. He voices Monster on Robot and Monster.
Career
Williams is known for his movie roles and comedy. His roles include films such as Dumb and Dumber, Freddy Got Fingered, There's Something About Mary, Half Baked, RocketMan, Sorority Boys, Down Periscope and Employee of The Month. Williams was featured as a security guard in the music video for Barenaked Ladies "Falling For The First Time". He has performed his stand-up comedy routines on Late Night with David Letterman, The Tonight Show with Jay Leno, Late Night with Conan O'Brien, HBO, Comedy Central and at comedy clubs throughout the country.
His improvisational skills led to him winning the award for 'Best Improviser' on an episode of NBC's prime time series Thank God You're Here in 2007.
Williams's latest ventures include voicing 'Monster' on Nickelodeon's new animated series Robot and Monster and starring as Warwick the Warlock in Disney's direct-to-DVD movie Spooky Buddies.
He has a free, tri-weekly podcast called The Harland Highway. Since its debut in December 2009, The Harland Highway has been receiving positive reviews and is quickly becoming one of the top downloaded podcasts on the internet. The Harland Highway can be downloaded on iTunes or streamed live from your mobile device on Stitcher Radio.
Rocker Parry Gripp of the rock band Nerf Herder wrote a song in homage to Williams, entitled "I Wanna Be Your Harland Williams".
He has appeared on Tom Green's House Tonight and on the Adam Carolla Podcast numerous times.
Filmography