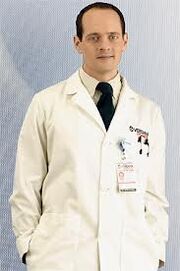 Jonathan Slavin (b. November 8, 1969) is an American actor. He voices Ogo on Robot and Monster.
Biography
Slavin may be best known for his portrayal of neurotic Byron Togler on the Fox network's sitcom Andy Richter Controls the Universe and as scientist Phil Myman on ABC's sitcom Better Off Ted.
He has also had guest starring roles on such shows as Castle, Grey's Anatomy, My Name Is Earl, Summerland, Friends, Weeds, Wings, ER, Chicago Hope, CSI: Crime Scene Investigation, Bones, Better With You, and The Finder.
Movie career
He has performed in a few films as well, including Race To Witch Mountain, Backwoods, A Cinderella Story, Hard Pill and Dirty Girl.
Personal life
Slavin was raised in Wilkes-Barre, Pennsylvania. He is Jewish, openly gay and has lived with his partner Michael for 18 years as of April 2012. Slavin is also a well known vegan and animal rights activist, with a large and ever growing menagerie of pets.