WELCOME TO ROBOT & MONSTER WIKI
This is a wiki about the Robot & Monster TV series that anyone can edit!
223 articles since July 29, 2012
ABOUT ROBOT & MONSTER
In the future, Mechanicals toil away, tightening screws at the Blinking Lights factory, while Organics chomp on salty snacks at their favorite food stand. In this land of beating hearts and motherboards, Robot and Monster make a bit of an odd couple, but that doesn't keep them from being best friends. Like toast and eggs, they do everything together, testing Robot's gadgets, playing fetch with Marf, dreaming of biker babe J.D. and dodging the annoying Ogo and the arrogant Gart. They're also on a mission to make Robot's dreams of becoming the world's most famous inventor, come true! Join them on their journey and be sure to pack plenty of their favorite snack: BACON!
NEXT EPISODE
Baconmas will air in:
December 8 2012 14:00:00 EST Javascript disabled.
Robot's and Monster's families celebrate Baconmas together, which leads to a stressful holiday.
(Read more...)
BLOGS
Latest posts
When will Paramount release the complete series of Robot and Monster on DVD?
I wish we have more info on Robot's Dad.
See more >
POLL OF THE WEEK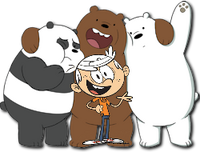 Community content is available under
CC-BY-SA
unless otherwise noted.